These last few weeks have certainly been a blur. In reality, what weeks aren't? Who doesn't love good coffee with a little bit of accessories mixed in. Also, isn't my "ma" just the cutest? There were days at the beach and days in the car, but the most special days are the free time I have with my man. Seriously, who has time for outfit photos anymore when all I want to do is snuggle up with him and forget the craziness that I call life.
Want more of my insta life? Follow along with my Photo A Day June adventure!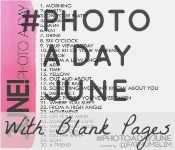 Also, head on over to
She Makes Hats
to win a LARGE AD SPACE right here on Blank Pages! All you have to do is leave a comment on her page; super easy. There's only one entry so far so hurry on over there!